---
Home

Alta Rezia
AltaValtellina
Valposchiavo
Engadina

Inverno
Ski Area

Cosa fare
Web Cam
Meteo
Map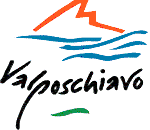 ---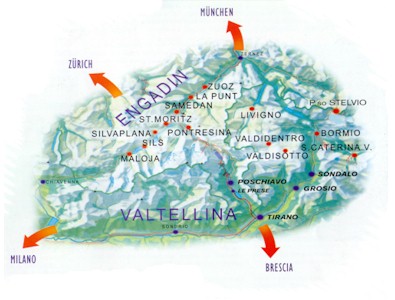 ---



Valposchiavo: Vivere un'esperienza inattesa
La Valposchiavo collega l'Engadina alta con la quasi già mediterranea Valtellina. E la valle posta più a sud nei Grigioni, la lingua parlata qui è l'italiano. Confina per tre dei suoi lati, con l'Italia. La sua caratteristica è un paesaggio assai vario, che spazia dai ghiacciai del massiccio del Bernina alle palme e le terrazze soleggiate della Valtellinese Tirano. Per vivere questi contrasti al meglio è consigliabile percorrere il tratto ferroviario, della durata di due ore, con il Berninaexpress. Stupenda è la Piazza di Poschiavo, con architettura tipica del nord Italia. Partendo da Le Prese, idillica località situata ai bordi dellOomonimo lago, è possibile raggiungere a piedi Miralago, e attraverso maestosi castagneti giungere a Brusio, con il suo spettacolare viadotto ferroviario.

Valposchiavo: Erlebnis des Unerwarteten
Das Valposchiavo verbindet das Oberengadin mit dem mediterran anmutenden Veltlin.
Es ist das südlichste Tal Graubündens, italienischsprachig und dreiseitig an Italien grenzend. Charakteristisch ist die abwechslungsreiche Landschaft zwischen den Gletschern des Berninamassivs und den Palmen und sonnigen Terrassen von Tirano. In einer zweistündigen Zugfahrt mit dem Berninaexpress lässt sich dies am besten erleben. Der Hauptort Poschiavo besitzt eine reizvolle Piazza, die an oberitalienische Städte erinnert. Vom idyllischen Ferienort Le Prese aus führt eine Wanderung entlang des Lago di Poschiavo und durch einen Kastanien-wald zum spektatkulären Kreisviadukt von Brusio.

Valposchiavo: Experience the unexpected
Valposchiavo is the link between the Upper Engadine and the Mediterranean-like Veltline. It's the most southern valley in Graubünden; the local language is Italian; and it borders Italy on three sides. A varied landscape can be found here, in this area which lies between the glaciers of the Bernina mountain range and the palm trees of Tirano. This climate change is most evident during the two-hour train journey known as the Bernina Express. Poschiavo, the capital of the area, boasts an attractive "Piazza" - a town square reminiscent of those common in Italian cities.
An inviting stroll along the Pushlav Lake leads from the idyllic resort of Le Prese to the miniscule town of Miralago, and then continues through lavish chestnut tree forests to the astonishing circular viaduct in Brusio.